Open Poetry Contest
May 14th, 2012
DONALDSON, IN -- Do you or someone you know enjoy writing poetry? We would love to read it! The Poor Handmaids of Jesus Christ Ministry Center is sponsoring a free intergenerational poetry contest open to all ages and residents of Indiana, Illinois and Michigan. Learn More.
---
Busy Hands Ladies
April 30th, 2012
What a wonderful surprise! The Busy Hands Ladies from Maria Center in Donaldson, Indiana came to visit us at the Nazareth Home. The ladies brought handmade fleece blankets and new books for the children. The kids had a great time opening their gifts and listening to their new stories. Thank you Maria Center for coming to visit us -- we greatly enjoyed having you here at the Nazareth Home!
---
Lincoln Park Zoo
April 16th, 2012
Lions and tigers and bears, oh my! The Nazareth Home kiddos took a trip to the Lincoln Park Zoo today. Even though it was a blustery day, they really enjoyed watching all of the animals in their habitats. They especially enjoyed watching the giraffes and the fish. One of our little boys kept saying "Roar!" whenever he saw a new animal. It was a fun-filled day for everyone!
---
Spring Fun!
March 27, 2012
The Nazareth Home kiddos and staff spent the morning hunting for Easter Eggs! It was a nice day to be outside looking for candy and other treasures hidden at the park. The kids really enjoyed looking for their brightly colored eggs and placing them inside their baskets.
---
Cuddlers visit Build-A Bear
February 25th, 2012
Nazareth Home volunteers, or "cuddlers" as they are known, do just what the title suggests – they cuddle, comfort and interact with the infants and children who are cared for at the East Chicago foster home. At holiday time, thanks to the volunteer generosity of Jim and Michelle Power, of Schererville, the children were treated to a Build-A Bear outing at the Merrillville store. Amid wide-eyed curiosity and happy choices to be made, each child selected an outfit for the personalized bear to be built and dubbed their new animals with such original names as "The Bear," "Fry," "Yellow," and "Five." On the way back to Nazareth Home, they undoubtedly did some cuddling of their own.
---
St. John the Evangelist Church
February 9th, 2012
Shown (l-r) are St. John the Evangelist Church representatives Vivian Keilman, Tom Keilman, Pete Rupcich and Jerry Barker.
Nazareth Home staff and volunteers were overwhelmed when representatives from St. John the Evangelist Church arrived with a semi-truck full of donated items for children at the East Chicago foster home. East Chicago firemen who happened by also lent a hand with unloading the items donated by parishioners of Father Sammie L. Maletta's church in St John, IN.
---
Nazareth Home volunteer becomes adoptive parent
January 9th, 2012
Deb Trelo was inspired to adopt a child after she began as a volunteer "cuddler" at Nazareth Home.
She first learned about the East Chicago foster home from Karren Lee, a Nazareth Home advisory committee member who described the nurturing, home-like atmosphere that is provided for infants and toddlers.
Round-the-clock care is given to medically at-risk infants and toddlers who may have been abandoned or can no longer remain with their biological families because of issues such as addiction or inadequate home care.
---
City shines spotlight on Nazareth Home
October 30, 2011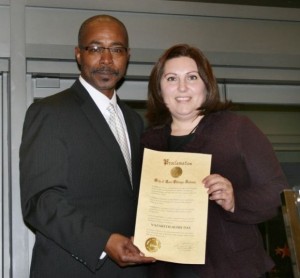 East Chicago Mayor Anthony Copeland, left presents Nazareth Home Director/Foster Mother Jean Bowman with the city of East Chicago's proclamation naming Oct. 20 as Nazareth Home Day. Photography by Studio 216.
EAST CHICAGO | East Chicago Mayor Anthony Copeland surprised hundreds of guests at a recent fundraiser for Nazareth Home when he stood at the podium to proclaim the third Thursday of October as Nazareth Home Day. At his side to accept the honor was Nazareth Home Director/Foster Mother Jean Bowman.
The proclamation was delivered during the Ninth Annual Nazareth Home Gala Chef Tasting and Live and Silent Auction held Oct. 20 at the Hammond Federal Courthouse.
---
Chef tasting and auction to benefit Nazareth Home
October 13, 2011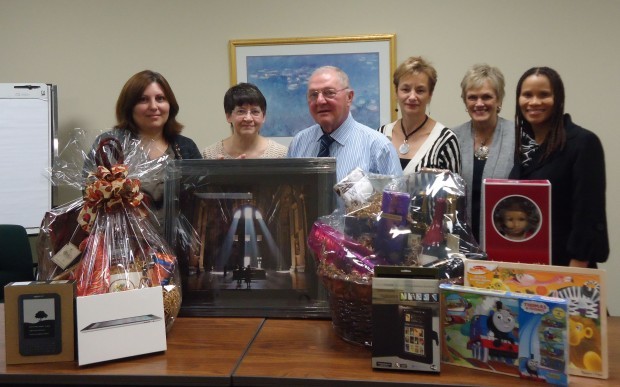 HAMMOND | When the doors of the atrium of the Hammond Federal Courthouse open Oct. 20, the foster children of Nazareth Home in East Chicago will be the beneficiaries of the evening's festivities.
There to greet guests at 5:30 p.m. at 5400 Federal Plaza will be Jean Bowman, Nazareth Home's new director/foster mother, who oversees the medically at-risk children who are referred by the Department of Child Services due to medical challenges or removal from families unable to provide appropriate care.
---
Mary Paquin
August 17, 2011
Article written by Mary Wysock
Mary Paquin is a volunteer we can always count on to lend a helping hand here at Bethany Retreat House. She is one of those behind-the-scenes, salt-of-the-earth volunteers who doesn't bring attention to herself but is very generous with her time and resources.
She first became acquainted with the Poor Handmaids of Jesus Christ (PHJC) who sponsor Bethany Retreat House at Our Lady of Perpetual Help School which she attended for eight years. In February 1992, Mary and her mother became PHJC Associates, individuals who feel a special calling to live the spirituality and support the ministries of the PHJCs.
---
Sr. Magdalen Hellmann, PHJC Jubilee
August 17, 2011
Sister Magdalen Hellmann, PHJC reflects on her 60 years as a Poor Handmaid of Jesus Christ.
As I reflect on my life I feel so much love and gratitude to God for His continued protection, guidance and blessings. I'm grateful for all the wonderful people who have touched my life and the many special opportunities I've experienced.
---
Dr. Galante's Office Making a Difference
June 23, 2011
When members of Dr. Gus Galante's Schererville office staff decided to assist with community projects, the Nazareth Home foster home in East Chicago was their first charity of choice. Office patients and Facebook followers were invited to assist with donations, resulting in a large collection of in-kind baby supplies, a $30 gift card, and a $100 donation.
---
Keller Williams makes impact in communities with annual RED Day event
May 13, 2011
by Damian Rico
SCHERERVILLE | If you tried walking into a Keller Williams Realty office yesterday, you may have been greeted by a note indicating "Offices closed in honor of our third annual nationwide RED Day."
RED (Renew, Energize and Donate) Day is Keller Williams Realty's annual initiative committed to their year-round dedication to improving local communities. Every year during the second Thursday in May, tens of thousands of associates from across the country and Canada participate in a wide array of initiatives aimed at bettering their communities.
---
New Nazareth Home director finds her calling
May 5, 2011
by Sue Libero
Jean Bowman was looking for more purposeful work when she discovered Nazareth Home in East Chicago.
Bowman, formerly of Chicago, was working in the corporate world, volunteering as a mentor for Lydia Home Association and had become a licensed foster parent.
"It stole my heart working with the kids and during that time I fostered a total of nine children and adopted two. Jonathan is now 24 and Aurelia, 'Lia', is 9.
"A friend of mine works for another ministry of the Poor Handmaids of Jesus Christ and I told her I love working with kids and that I was looking to work in a more Christian ministry environment. My heart was more in the direction of working in a giving environment.
---
Bishop blesses new foster mother, honors volunteers
April 30, 2011
When newly-named Nazareth Home Foster Mother/Director Jean Bowman welcomed open house guests April 19, she received a blessing from a very special guest The Most Rev. Dale J. Melczek, bishop of the Diocese of Gary.
Nazareth Home, a foster home in East Chicago for medically compromised children, is a ministry of the Poor Handmaids of Jesus Christ.
The open house was an opportunity to officially welcome Bowman and recognize the volunteer "cuddlers" who provide infants and children up to 6 with hundreds of hours of unconditional love and cuddling, play and home care services.
---
Nazareth Home Foster Mother/Director
April 11, 2011
It is our pleasure to announce that Jean Bowman will be joining us as the new foster mother/director at Nazareth Home.
Jean brings with her an extensive background as both a licensed foster parent and ultimately an adoptive parent. Her nine-year-old daughter, Aurelia, who came to Jean at 6 weeks of age, also will be living at Nazareth Home.
---
Fundraiser benefits children at Nazareth Home
March 20, 2011
The nonprofit We Believe Project held an all-day fundraiser this month at Schererville's Red Robin Gourmet Burgers restaurant, with all proceeds going to Nazareth Home in East Chicago.
Ten percent of food sales March 10 were donated to the foster home when customers presented a We Believe Project flier to their server. Restaurant customers also donated $750 and disposable diapers, toys and blankets for the children - infants to age 6 - cared for at the home. Donors received a chance to win a $50 gift card.
---
Students, Scouts reach out to Nazareth Home
March 9, 2011
HIGHLAND | When sixth-graders at Warren Elementary School donated a basket of gifts to Nazareth Home in East Chicago, the children at the foster home received everything from diapers and bibs to baby food and formula.
The items were delivered by the Girl Scouts of Highland Troop 188 who also added five soft, no-sew blankets they had made at one of their Scout meetings. During their Nazareth Home visit, they had a chance to read, play and feed some of the children. Another visit by the girls in February included a surprise delivery of 23 boxes of Girl Scout cookies. Extra boxes were collected when the Scouts asked customers if they wanted to buy additional cookies for the foster home.
---
Young women believe in change, hope and inspiration
March 7, 2011
Two young Schererville residents have teamed up to make a difference by establishing their own nonprofit organization.
Recent Purdue University Calumet graduate Egle Vaitiekute, and current PUC student Sylwia Pilat, started the We Believe Project last summer, after traveling to several states and devoting most of their summer break to volunteering for those in need.
---
A Nazareth Home Donation
January 26, 2011
The Nazareth Home of East Chicago, IN recently received a $5,000 grant from the First Midwest Charitable Foundation of Highland, IN to go toward the purchase of furniture at the foster home.
---
2010 Nazareth Home Gala
October 21, 2010
Our annual gala gives supporters a chance to gather and celebrate the miracles of Nazareth Home. East Chicago's Multimedia Division was kind enough to attend and put together a short video of the festivities!
---
Nazareth Home on WJOB
October 11, 2010
Leroy Fassett, a volunteer at Nazareth Home for over a decade now, had the opportunity to go on WJOB's radio show to share the stories of Nazareth Home and talk about upcoming events. To learn more about the impact of Nazareth Home on the community of East Chicago and the children of Northwest Indiana watch the videos.
---
Sr. Barb Kuper Transition Announcement
For the past 17 years, Sister Barbara Kuper, PHJC has devoted herself to Nazareth Home and more than 140 medically challenged foster infants and children cared for at the Nazareth Home. She embodies the Poor Handmaids of Jesus Christ values and the mission of Nazareth Home. The community, the volunteers, the staff and the children all see Nazareth Home as an extension of the love, caring and nurturing that Sister Barbara offers.
Read More About Sr. Barb's Transition...
---
Nazareth Home 2010 Reunion
On August 7, 2010 Sister Barbara Kuper, PHJC, Director and Foster Mother of Nazareth Home, welcomed back babies, children, volunteers, friends and staff to the Nazareth Home Reunion at the Heritage Center in East Chicago, Indiana. This is the fifth year everyone has enjoyed visiting with each other and seeing how much the children have grown. As we dined on a delicious lunch watching the children play, we caught up on the lives of fourteen children who were cared for as babies at Nazareth Home. The children posed for a group photo and then headed outside to enjoy the playground.
Read More About Our 2010 Reunion...
---
Nazareth Home Volunteer Appreciation Open House
When the volunteer "cuddlers" take time to cuddle and interact with the babies of Nazareth Home, a gentle hug or a nurturing smile often means that the volunteers are having just as much fun as the children and infants in their care!
The annual volunteer open house on April 22, 2010 – amid greetings from Sister Barbara Kuper – was a time to recognize the volunteers with an abundance of food, certificates and gifts. As volunteers were honored for the total number of hours they contributed in 2009, it was also an opportunity for them to visit with their special babies and toddlers.
Read More About Our Volunteer Appreciation...
---
Nazareth Home Honors Tom Collins at Gala
The 7th Annual Nazareth Home Gala was the setting for an announcement naming the recently completed All-Seasons Room as the Collins Room, in honor of Nazareth Home supporter and volunteer Tom Collins. Collins was recognized for his extraordinary contributions and support of Nazareth Home over the years. The completion of the All-Seasons Room was made possible by a gift from Collins. He was surprised by the honor, and graciously expressed his thanks. Sister Barbara Kuper, PHJC, made the presentation, along with Leroy Fassett, NH volunteer and Master of Ceremonies for the evening.
Read More About Honoring Tom Collins...
---
Thank You Rylee!
At age seven, Rylee is already an accomplished painter, creating popular artworks reflecting her experiences and interests. Her interest in, and love for, Nazareth Home has grown out of her volunteer activities, alongside her mother, Chris. When she heard about the recent Gala to raise money to care for the babies, she asked her mom if she could donate something for the auction event. After much deliberation, she decided she wanted to create a picture.
Read More About Rylee...
---
Nazareth Home Highlighted in Lampen Lecture
Using the series theme of Dignity and Respect, Sister Barbara Kuper, PHJC presented a lecture on Nazareth Home, on April 2, 2009, as part of the Ancilla College Lampen Lecture series for 2008-09. The Lampen Lecture Series is named after Sister Joel Lampen, PHJC, a long time President of Ancilla College.
Read More About the Lampen Lecture...
---
The Donor Partnership: More Ways to Give
As our partners in the Work of the Spirit, you have given to Nazareth Home and Sojourner Truth House in many different ways. To be sure, every gift, whether it is time, talent or treasure, is deeply valued by each of us who works for or in these ministries. As volunteers, you have given thousands of hours of service translating into several full-time equivalent personnel, which has an enormous impact on the bottom line for each ministry. Some of you share your talents with our ministries, such as cooking, building or repairing items, helping to maintain facilities, etc.
Read More About Ways to Give...
---
A Special Thank You to Nick's Liquors & Dennis Sheffield
Nazareth Home and the Locks of Love charities both benefited from a dare by the family, friends and customers of Dennis Sheffield. Sheffield, the manager of Nick's Liquors on Hohman Avenue in Hammond, had been growing his long, flowing hair for more than 18 years. But the idea of helping not one, but two charities was too enticing to pass up. To sweeten the dare, family, friends and customers all chipped in to encourage Sheffield to take the plunge, and get sheared for charity. They raised $2,037!
Read More About Dennis...
---
A Special Thank You to Marie DeVoll
Special Thanks to: Marie DeVoll of Schererville, who recently celebrated her birthday and thoughtfully requested that in lieu of birthday presents, guests make donations to Nazareth Home. The total donated was $165.
Nazareth Home Brochure
Download Now!
For more information, please contact:
Jean Bowman
(219) 616-6090
P.O. Box # 3067
East Chicago, IN 46312-8067